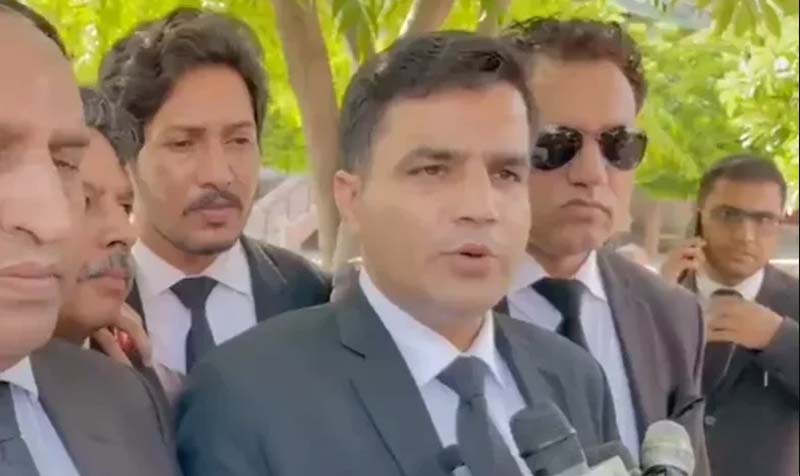 ISLAMABAD: The Federal Investigation Agency (FIA) has arrested Pakistan Tehreek-e-Insaf (PTI) Chairman Imran Khan's lawyer Naeem Haider Panjotha, Geo News reported.
Officials, who spoke anonymously, claimed that the lawyer had gone to FIA headquarters as he was summoned for investigation in the social media posts of Judge Humayun Dilawar.
PTI lawyer Sher Afzal Khan Marwat tweeted that Panjotha's clerk had confirmed the arrest but it was not clear whether it was a formal arrest or not as the first information report cannot be "registered directly and without permission of Islamabad High Court".
"Naeem Haider Panjotha Adv has reportedly been arrested by FIA. He went to FIA headquarters to join inquiry in Humayun Dilawar's Facebook posts," the PTI leader tweeted.
Marwat said that Panjotha's arrest "would unite the legal fraternity" and would not stop the PTI chairman's legal team from discharging their "professional obligations". 
On the direction of the IHC, the Cybercrime Circle of FIA had launched an inquiry against Panjotha and had directed him to appear before the inquiry team at the Cybercrime Reporting Centre in Islamabad today.
In the summon, the inquiry officer had asked the lawyer to clear his position in the interest of justice for a fair trial.
Last week, the IHC referred the "controversial" Facebook posts of Judge Dilawar — who sentenced PTI chief Imran Khan in the Toshakhana case — to the FIA.
On August 5, Additional District and Sessions Judge Dilawar sentenced former prime minister Khan to three years in prison in the Toshakhana case, sending shockwaves across the party.