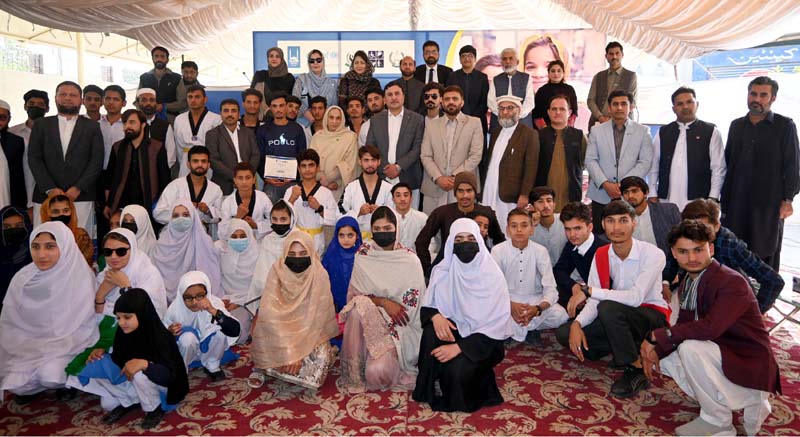 PESHAWAR: Khyber Pakhtunkhwa Child Protection and Welfare Commission in collaboration with UNICEF, Islamic Relief and Special Education Complex Hayatabad celebrated the Universal Children's Day under the theme "For every child, every right".
The event was organized with participation of children from the Special Education Complex, Peshawar, and provided a dedicated opportunity to children with special needs an opportunity to express themselves through various activities during the event.  
Justice Retired Irshad Qaiser, Minister for Social Welfare, Special Education and Women Empowerment Department, was the chief guest. The event was also attended by Muhammad Farooq, Additional Secretary Social Welfare Department.
The day's proceedings marked the department's commitment to the principles of the United Nations Convention on the Rights of the Child (UNCRC), the Government of Khyber Pakhtunkhwa, and the inclusive vision outlined in the Child Protection and Welfare Act of 2010.
The event showcased performances by children, including those with special needs, underscoring our collective dedication to creating a society where every child's rights are not only recognized but actively protected and promoted.
The collaborative efforts for today's events involved key stakeholders, including Said Ali Bakhsh, Director Special Education Complex; Ijaz Muhammad Khan, Chief Protection Officer, Khyber Pakhtunkhwa Child Protection and Welfare Commission; Syed Naheed Shad, Area Program Manager, Islamic Relief Pakistan; Mr. Anwar Iqbal, Director Operation NCHD Khyber Pakhtunkhwa; and special thanks to Mr. Sohail Ahmad, Child Protection Specialist from UNICEF Field Office Peshawar, who played a key role in the collaboration process.
Mr. Sohail said this day is a day of self-reflection for all us as duty-bearers. He also appreciated the efforts of KP government including the KP Child Protection and Welfare Commission and the civil society organization collectively working to towards the fulfillment of children's rights. He reiterated that today's theme for celebrating the universal children's day is a reminder to us of ensuring the every child should get every right; without discrimination of any kind. He also shared with the participations some of the key child protection issues and challenges including child labour, child marriages, violence against children and lack of universal birth registration and emphasized on systemic solutions to these through collaborative efforts and right prioritization.
Mr. Ijaz Muhammad Khan, Chief Protection Officer, emphasized in his speech the pioneering role of the government of Khyber Pakhtunkhwa in introducing the Child Protection and Welfare Act on October 4, 2010. He said the Act serves as a focal point for effective supervision and coordination of child rights matters at provincial and local levels, implementing policies for the prevention, protection, rehabilitation, and reintegration of children at risk.
Mr. Ijaz Muhammad Khan stated, "We are managing and supervising Child Protection Units currently operational in 12 settled and nine newly merged districts. At the divisional level in the district, we have the privilege of having eight Child Protection Courts while the KPCPWC has provided services in 31,570 cases, including 19,647 boy cases, 11,916 girl cases, and 7 transgender cases."
"At the district level, we have child protection committees working under the chairmanship of Deputy Commissioners, and we are expanding our child protection system into the community level," he added.